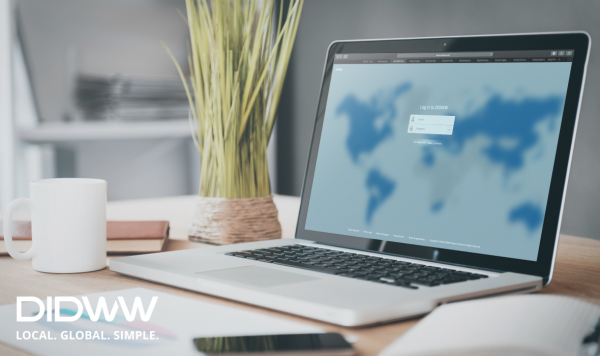 They say that speed is the new currency, and in today's world that is especially true when it comes to delivering essential services and keeping businesses connected to their customers. In line with evolving market demands, DIDWW is proud to announce the launch of an all-new Identities & Addresses tool for users of its self-service portal.
 
This new option is available as an integral part of the company's self-service portal and allows users to swiftly enter end-user information to ensure they are always compliant with registration procedures. The Identities & Addresses feature has been designed to automate the entire process, significantly reducing the time customers traditionally take when completing the registration procedure. This latest addition will allow users to control everything themselves, reducing the need to liaise with DIDWW staff.
The my.didww.com portal is a sophisticated control centre which facilitates provisioning, configuration and support, and provides the necessary information applicable to delivering world-class DID, SMS and Voice Termination services in over 70 countries. To maximise safety, all information entered by users is encrypted to ensure that the client data remains secure and accessible only by authorized parties.
Upon login, users are directed to the main dashboard displaying vital real-time statistics relevant to their DIDWW services and can quickly and easily navigate to review call and SMS logs, run detailed billing reports, access the extensive documentation, or leverage the 24/7 live-chat for immediate service and support.
For business operations staff, the portal enables full control over the process of ordering new DIDWW services, including querying available DIDs together with any regulatory restrictions for the region. The complete number porting process can also be initiated and tracked, ensuring that stakeholders are aware of their project status at any given time.
Karolis Jurys, Commercial Manager at DIDWW, said, "We understand that our customers want to be in complete control of the systems which power the services they deliver to their end-users. More so, our clients are expecting these systems to help them to improve end-user response and delivery turn-around times. The latest release of the DIDWW portal does exactly this and more, giving our customers a highly competitive edge in the market."
If your business is struggling to get a handle on being in control of the process for Voice and SMS service provisioning and at times cannot get access to all the information required to deliver a seamless user experience to your customers, then it may very well be time to switch to DIDWW.
About DIDWW
 
DIDWW is a platform for telecommunication professionals with full self-service access and real-time provisioning, APIs and all the necessary building blocks for achieving the ultimate control over voice and SMS services.
The company offers the largest fully compliant international coverage of local, national, mobile, toll-free voice and SMS-enabled virtual phone numbers, two-way local and global SIP trunks, access to local emergency services, flexible capacity options, free global number portability, a number selection tool, and more.
DIDWW delivers premium quality services to thousands of operators worldwide through a private and fully geo-redundant network with mission-critical reliability and  guaranteed SLAs. Their customers enjoy advanced solutions coupled with a unique service experience and superior value, all driven by a highly motivated team of professionals.
Press Contact:
Vilija Simkiene
Marketing Department
[email protected]
+1 (212) 461 1854
www.didww.com