Himiway bike is pleased to announce that the Himiway Cruiser, an all-terrain electric fat bike powered by a 48V 17.5AH Samsung Lithium-Ion Battery is now available for sale. The Himiway electric bike is designed for comfort and is an excellent choice for recreational bikers who are looking for an extra boost at a very competitive price.
Whether you are heading to your local coffee shop or hitting the trails on the weekends, the Himiway electric bike keeps the effort low and the fun level high with its 750W High-Speed Brushless Gear Hub Motor producing a torque of 80NM. Riders can expect to power through steep inclines and get to about 20mph quickly from a dead stop, all while remaining quiet and inconspicuous.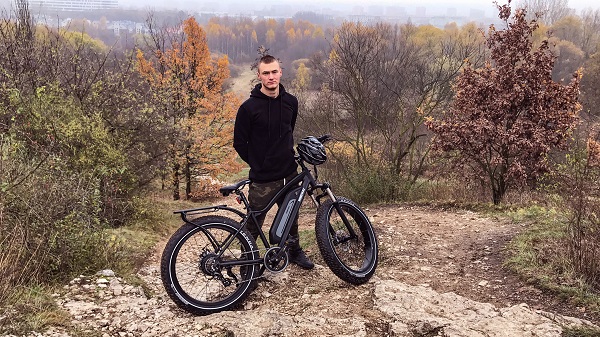 Design-wise, the Himiway electric bike is sturdily built for efficiency and comfort using quality components throughout; a soft Velo saddle that can be adjusted to suit your height, an industry-standard shock absorber, a half-twist throttle with an on/off button to prevent accidental activation, a high-strength Alloy front suspension fork, and 26"x4" Kenda fat tires for improved grip and traction on snow-covered roads and other troublesome terrains. Additionally, the Himiway Cruiser comes with a Shimano 7 Speed Gear Shift System that allows bikers to choose the best speed to complete their journey, and a 180mm Mechanical Disc Brakes that provides a strong stopping power even on loose terrains.
One other standout feature of the Himiway Cruiser is that it comes with three riding modes. This offers riders the advantage of using the Himiway electric bike as any of a regular pedal bike with the direct riding mode, a motor-powered bike with the electric mode and a perfect blend of pedaling and motoring with the pedal assist mode. On pure electric power, the bike can go around 35 miles on a single charge and 60 miles per charge with the pedal assist mode.
While on a cruise, riders will find the Himiway Cruiser's LCD display very resourceful. The LCD display provides information as regards the battery capacity, traveling speed mph, amount of power the motor is outputting at any given time, the pedal assist levels, total miles driven and finally it incorporates a USB charging port for phones or other portable electronics.
Himiway Bikes ships its bikes direct-to-consumers rather than using the traditional bicycle distribution channel of third-party dealers and retailers. As a result, e-bike enthusiasts can now have access to premium electric bikes at a more competitive price. The Himiway Cruiser is priced at $1499 and comes with a 2-year warranty. For more information or to purchase the new Himiway Electric Bike, please visit https://himiwaybike.com/products/himiway-electric-fat-bike
About Himiway Bikes
Founded in 2017 by a group of dedicated e-bike enthusiasts and product designers, Himiway Bikes manufactures bikes that are simple, comfortable and efficient. The company's e-bikes are engineered for all terrains - with powerful motors, high-capacity batteries and the best of smart technology.
For news and updates on Himiway Bikes and their latest products and accessories:
https://www.youtube.com/channel/UCz1hquHdWMXRlOsbJ-pmh_g
https://www.facebook.com/himiwaybikes/
https://twitter.com/HIMIWAYBIKE
Reach out to Himiway team on any of these mails:
[email protected]
[email protected]
[email protected]