On December 21st, 2019 Empowerment Through Sports (ETS) embarked upon their 6th Annual effort to provide Christmas cheer to the South Phoenix Community. ETS decided years ago that they wanted to be more than just a youth sports league; they decided that their collective effort as an organization needed to extend to making an impression on the community. Their efforts continue in their being intentional in making sure the community understands the importance and response-ability in giving back.
This year's event held at the City of Phoenix's Hermosa Park superseded the previous offerings, there were over 600 toys provided to more than 228 children and their families.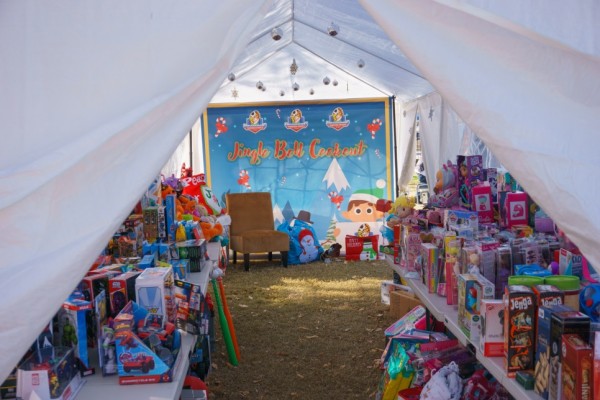 (Over 600 toys)
Children and their families were able to enjoy free food, face painting, bounce house, games, music entertainment, and of course, toys! This wonderful opportunity was made possible due to the generous donations and support from our community collaborators.
(Balloon and Face painting Art)
Empowerment Through Sports wants to thank the following partnerships for their assistance with making the day so special.
Collaborators include the Damion Gosa Memorial Foundation, The United Black Fire Fighters, NATCA, Parenting Arizona, Walmart Foundation, State Farm Foundation, Premier Orthodontics, Central Christian Church of Arizona, Tuttle Transportation, C-Mack Electric, Starbucks, Wildberry Café, Lighthouse Catering, Topgolf, Fry's Food and Drug Stores, South Pointe Elementary School, and all of the individual volunteers. You truly are the glue that holds our effort together. Thanks again and have a happy new year!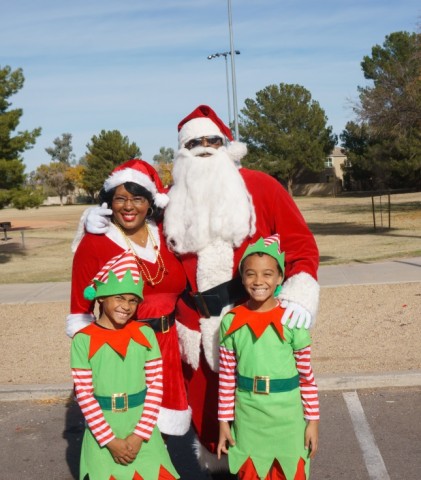 (Homie Clause with Mrs. Clause and two of his special elves)
Media Contact:
Reginald Russell
[email protected]
602-690-5360