BEIJING - Oct 16, 2019 - The Innovation China 2019 conference was successfully held in Beijing on Oct 11, 2019. More than 150 attendees from start-ups, venture capital firms and multinational companies joined in the presentations, panels and networking events.
The "Innovation China" series of conference is organized annually by CM Venture Capital, a shanghai-based materials-focused venture capital company, managing strategic capital from GE, BASF, Samsung, SABIC, Henkel and BAT. The conference promotes investments in hard technologies, encourages dialogue between the East and the West, and fosters open innovation and open entrepreneurship. The conferences are sponsored by Mitsubishi Corporation Shanghai.
A keynote from Guotai Junan Securities shared the latest process and practices of listing on the newly established NASDAQ-style China Science and Technology Innovation Board, which has received applications from 160 companies as of Sep 30 2019, the majority of which are materials or manufacturing-related.
Dr. Min Zhou, managing partner of CM Venture Capital moderated a panel discussion on the impact of global geopolitical uncertainty on the investing climate and investor decisions. The panelists included a Senior Partner at PWC and the CEO of BICI investment. They recognized that there is a strong impact and that cross-border investments from China to the USA have been dramatically reduced in 2019. At the same time, this uncertainty is driving a healthy structural shift in China's investment focus from low-end sectors to high-tech, high growth sectors, and from service-focused businesses to manufacturing-focused ones.
CM Venture Capital Managing Partner Dr. Patrick Berbon shared insights on why historical perspectives are necessary for investing in materials-related industries as hard-tech takes a long time to develop and B2B sales cycles are long. Dr. Berbon also shared how CM Venture Capital builds that sense of history with experienced partners, comprehensive database, proprietary research and partnerships with corporates. Looking into the future, Dr. Berbon also shared the themes CM Venture Capital considers as most promising in the next decade include sustainability, electrification, AI and machine learning.
Dr. Stefan Bruening, BASF's Vice President of Innovation Campus delivered a keynote introducing the BASF Innovation Campus, and gave examples of the recent innovative products that BASF introduced to the market. Mr. Yoshiyuki Kashiwagi, head of new market and business incubation for BASF Performance Materials, followed with a speech to highlight successful cases of BASF Performance Materials in building new business opportunities with leading industry players including start-ups via not only material innovation, but also solution creation.
Corporate venture capital (CVC) groups were heavily represented at the conference. The CVC panel including investment group of BASF, Henkel, SABIC and China's Three Gorge New energy discussed their best practices, value-add and areas of active interest. The panelists listed top three criteria for CVC as strategic fit with the corporate business units, strength of the IP portfolio, and start-up team, while the top three value-add from CVC are intimate knowledge of the industry, technology validation and market access.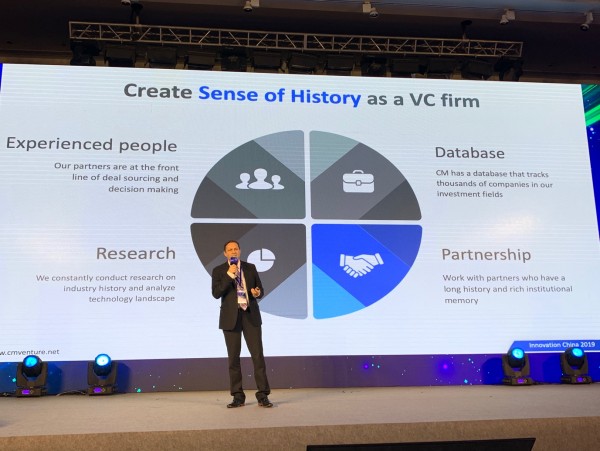 Dr. Patrick Berbon, Managing Partner, CM Venture Capital
The conference featured leading start-ups from a wide variety of industries. These leaders in their industries presented their companies, shared their perspectives on industry status, drivers and challenges, and painted their vision for the future. The presentations included:
CTO Dr. Bin Li of Kempur Microelectronics, China's leading photoresist company, shared that further development of raw materials and equipment engineering are necessary to develop China's photoresist industry.
CEO Dr. Bin Fan of GCL Nano, a subsidiary of GCL Group, shared that efficiency of GCL Nano perovskite solar cells has reached 16%, and it is building a 100 MW perovskite cell production line which will enter into production in Q4 2020.
CEO Dr. Xun Ouyang of Nowogen, a company in fuel cell stacks, shared that individual cells' performance by Chinese manufacturers is as good as world's leading products, but Chinese companies need to accumulate more road test in real life and scale up automated manufacturing.
Xuewen Yu, senior scientist of CRRC New Energy, shared that CRRC New Energy is working on hybrid supercapacitor and lithium ion batteries to address markets where both high power density and high energy densities are needed.
Arthur Ren, CEO of Beaver Biomedical Engineering, shared that In Vitro Diagnostics (IVD) market has grown to ~ $10 B USD in China with CAGR of > 18% in the last 10 years vs 5% globally, providing a high-growth market for magnetic beads.
Aina Chai, Chairwoman of Huidu group introduced Huidu's business of creating reusable delivery boxes to save cost for e-commerce platforms and to reduce waste. Ms. Chai called materials companies to offer solutions that are stable in wide temperature range, sealed against water, and easily cleaned.
Yan Zhou, CEO of Furcifer Inc., shared that high cost has been traditionally the biggest barrier to electrochromic window adoption, and Furcifer's route based on electrochromic polymer reduces the cost by up to 80% compared to products on the market today.
Mike Casper, CEO of US-based Flex Lighting, introduced breakthrough thin-film lightguide-based front-lighting solution for flexible LCD so that reflective LCD can be used also in low-lighting conditions, addressing a key pain-point for reflective LCD.
The conference also heard from Larry Chen, head of Zipline Medical China, who shared his experience building up Zipline China's team, market, distribution channels and partnerships to build China into 2nd largest market for the US-based company.
The conference wrapped up with announcing Innovation China 2020 conference to be held in Shanghai on Oct 16, 2020.
About CM Venture Capital:
Founded in 2010 in Shanghai, CM Venture Capital started as a boutique business advisory company focused on open innovation consulting for multinational companies and business plan advisory for local promising start-ups.
CM Venture Capital raised its first RMB-denominated venture capital fund in 2011, backed by Shanghai venture capital guidance fund and local Chinese entrepreneurs. Successes of Fund I in spotting and fostering promising start-ups in hard technologies lead to successful formation of CM Venture Capital Fund II in 2016, backed again by Shanghai venture capital guidance fund and by six multinational companies including GE, BASF, Samsung, SABIC, Henkel and BAT. The investment focus of CM Venture Capital Fund II is new materials and applications, advanced manufacturing, energy and environment, and digital industrial.
For media inquiries, contact:
www.cmventure.net
www.innovationchinaconference.com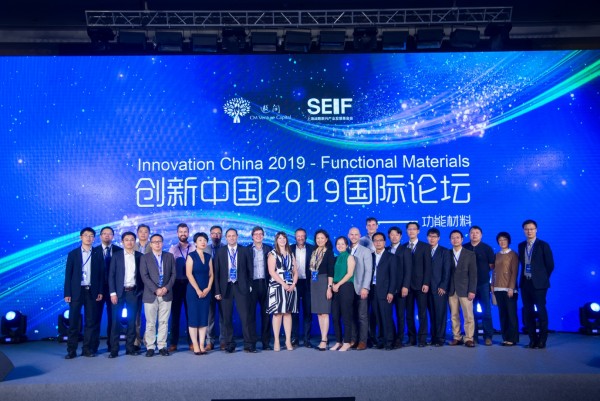 Conference speakers gather for a photo