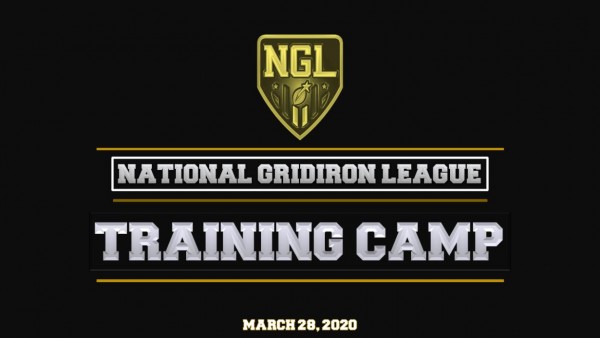 The National Gridiron League (NGL) America's premier summer football league is set to begin preparation for the league's 2020 season. NGL players will report to team facilities on March 28th to officially begin team training camp.
ATLANTA, GA - There's a lot of intrigue heading into every sporting season, and the National Gridiron League's (NGL) historic campaign will certainly be no different. All 12 teams will report to their team training facilities in their respective markets on March 28th, 2020.
Each NGL member team will have 36 players reporting for team training camp as players aim to make the 24 player official team rosters. With final cuts being determined on April 12th.
The 2020 league schedule will be released this week with kickoff weekend set for April 18th. Each league team will compete in sixteen league games hosting eight home dates while also traveling to compete in eight away competitions.
About the National Gridiron League:
National Gridiron League, Inc. (NGL) is a non-profit organization that promotes professional football and dance as a catalyst for the redevelopment and growth of individuals from systemically disadvantaged backgrounds.
In partnership with gridiron football organizations throughout the country, we strive to utilize our platform of professional football to drive youth, adults, and families into our community outreach initiatives.
With approximately 26 million residents in the metropolitan communities that we partnered with to serve. National Gridiron League is committed to developing Americans for the betterment of the communities in which they reside. Our commitment to social development through sports entertainment is what separates the program from other professional sports around the world.
Each year National Gridiron League continues to expand its efforts in team and activity participation, as well as visibility and outreach in the community.
For more information visit nationalgridiron.com
Contact:
National Gridiron League
844.645.7226